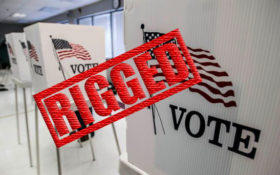 by Stephen Dietrich, Associate Publisher
The difference from Ohio's 12th Congressional district's special election this week between Democrat Danny O'Connor and Republican Troy Balderson is razor thin. Less than 2,000 votes secured the win for Balderson, the Trump-back candidate, on Tuesday — less than one percent.
That thin margin triggered an automatic recount. After Franklin County election officials "found a stash of 500 votes lying around at an Ohio polling station" this week, the Republican's lead shrunk even more — and conservative commentator Rush Limbaugh warned listeners Thursday that it's evidence Democrats are trying to steal the congressional seat.
Limbaugh is not alone in these election fraud allegations.
According to The Conservative Tribune, 170 registered voters inside the district were "over 116 years old" on election day. Almost half of them voted on election day.
Considering the oldest living person currently in the world is a 115-year-old Japanese woman, that discovery has raised eyebrows.
"That's 10 percent of Balderson's current margin of victory, pending provisional ballots. And 72 voters over the age of 116 who 'live' in Balderson's district cast ballots in the 2016 election," Eric Eggers, the research director at the Government Accountability Institute, reported Tuesday.
These disturbing election fraud allegations aren't isolated, of course. Legal watchdog Judicial Watch's president, Tom Fitton, claims that nearly 1.1 million illegal ballots from non-citizens may have been cast for former Secretary of State Hillary Clinton in the 2016 election. And the meddling — specifically in Ohio — goes back decades.
In 2004, liberal activist group ACORN was caught turning in falsified voter registration cards in Franklin County, where the extra 500 ballots were discovered.
In that same year's election, up to 15,000 votes were reportedly "lost" in Franklin County and other Ohio voting districts after polling errors.
According to The Washington Post, "The foul-ups appeared particularly acute in Democratic-leaning districts, according to interviews with voters, poll workers, election observers and election board and party officials, as well as an examination of precinct voting patterns in several cities."
And last year, The Columbus Dispatch reported that seven people were successfully indicted by a grand jury for casting illegal ballots in Franklin County during the 2016 election.
In every election in the past decade, it's the same story from Franklin County, Ohio and other heavily Democratic districts.
How many more times will this happen before Americans finally stand up and demand accountability in our elections?
Rush Limbaugh warned his audience on Thursday that Democrats are trying to steal the Ohio special election.
This comes after election officials found a stash of 500 votes lying around at an Ohio polling station.
The votes gave Democrat O'Connor another 190 votes to narrow Republican Balderson's lead.
What luck!
USA Today reported:
The tight race between Democrat Danny O'Connor and Republican Troy Balderson just got tighter.

Election officials in Franklin County found 588 previously uncounted votes in a Columbus suburb. The result: O'Connor had a net gain of 190 votes, bringing the race's margin down to 1,564.

"The votes from a portion of one voting location had not been processed into the tabulation system," according to a Franklin County Board of Elections news release.

Balderson declared victory Tuesday night in the closely watched congressional district race in central Ohio. But O'Connor says he's waiting for all votes to be counted.

That includes 3,435 provisional ballots and 5,048 absentee ballots, which will be tabulated by Aug. 24.