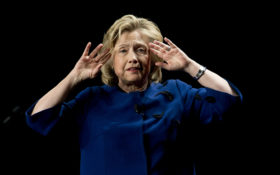 by Frank Holmes, reporter   
Former Secretary of State Hillary Clinton may have wanted to keep her presidential plans under wraps, but one of her former advisers just revealed the exact campaign strategy that the two-time loser will use to run a third time in 2020. 
And make no mistake, she's running.
Hillary is lying through her teeth when she says she's not sure about whether she'll seek the Democratic presidential nomination in two years, onetime Clinton pollster Mark Penn writes. 
"Don't pay much attention to the 'I won't run' declarations," according to an op-ed the Clinton insider penned for the Wall Street Journal on Sunday. 
Hillary stoked speculation earlier this month when she told a left-wing interviewer, "I'd like to be president."
That's putting it mildly, Penn says. Hillary wants power so bad, she can taste it… and lying is just one small part of her master plan.
"Clinton will fight this out until the last dog dies," Penn writes. 
Why is Hillary mincing her words? Penn says that's all part of her plot to lull the other 2020 presidential hopefuls into a sense of false hope.
Clinton plans to spend the next few years reinventing herself as "Hillary 4.0," returning to her roots as a Saul Alinsky-loving radical, the article says. 
Then Penn lays out Clinton's 2020 presidential campaign in detail… at least a year before she's officially announced!
Hillary will wait until after Senate Democrats like Cory Booker and Kamala Harris get into the race — and start tearing each other apart — before she throws her hat in the ring again. 
Once she does, Penn predicts that Clinton will "trounce" the "bungling amateurs" and "take down rising Democratic stars like bowling pins." 
She'll have so much money and recognition that they'll never know what hit them!
Hillary's sucker-punch announcement will let her "emerge as an unstoppable force to undo Mr. Trump, running on the #MeToo movement, universal health care and gun control."
"She may even skip Iowa and enter the race later, but rest assured that, one way or another, Hillary 4.0 is on the way," Penn writes.
Penn laid the entire strategy out in plain sight—and at least a few people are excited by what they read.
Trump adviser Kellyanne Conway, who helped manage Trump's campaign against Hillary, tweeted, "Dear God, please, yes." 
Dear God, please, yes.

Washington Examiner

✔@dcexaminer

Hillary Clinton will run for president again in 2020, former adviser says https://washex.am/2QCwwar 
President Donald Trump also tweeted that he relished a replay of the 2016 election:
I was recently asked if Crooked Hillary Clinton is going to run in 2020? My answer was, "I hope so!"
But Democrats have a totally different reaction — they're "panicking," according to the
Detroit Free-Press
.
Even one of Hillary Clinton's confidantes and closest advisers has told her to throw in the towel.
"She's done everything she can," said Neera Tanden, president of the Center for American Progress. "It's time for new leaders."
The liberal media has turned on Hillary, too. CNN — which was once known as the "Clinton News Network"— ran two articles shooting down the 2020 speculation. 
"Here's why Hillary Clinton 4.0 is a terrible idea," wrote its editor, Chris Cillizza.
Another article —"Please, Hillary, don't do it"— said the idea of a third Clinton presidential run has Democratic insiders "silently burying their heads in their hands." 
"How could the party, which has been at the forefront of the #MeToo movement over the past year, possibly reconcile its role as champion of women with its endorsement of a candidate who many feel whitewashed her husband's womanizing?" they asked.
New York Magazine called Penn's idea "blindingly stupid" and the Daily Beast said that "Democrats talking up Clinton 2020" need to "shut up." 
The news is even worse for the Clinton Machine when they start interviewing voters.
Democrats in the early primary states say they hate Hillary so much, they'd rather vote for Trump!
 The first poll to include Hillary as a presidential candidate shows her ranking third — behind "Other." 
She's actually tied with Hollywood celebrity Oprah Winfrey. Ouch!
Worse yet, almost half of the Democrats polled say that if Hillary is nominated, they will vote for a third party candidate …and 10% would vote for Trump.
That's bad… and Clinton's popularity only sinks from there!
A focus group of independent voters in New Hampshire told pollster Frank Luntz that Hillary is "done" and called her "a has-been."
And her popularity with Americans in general just hit a brand new, embarrassing low.
Just over one-in-three Americans has a positive view of Hillary, down 7% since the 2016 election, and tied for the lowest rating in the history of the Gallup poll.
Hillary knows all this, but she's staying in the game, anyway. "She won't let a little thing like two stunning defeats stand in the way of her claim to the White House," Penn writes.
The Horn News told you so in 2016!
"Never count Hillary out," we wrote on December 30, 2016. "She's power-hungry, ruthless, and never, ever quits."
Frank Holmes is a reporter for The Horn News. He is a veteran journalist and an outspoken conservative that talks about the news that was in his weekly article, "On The Holmes Front."