Another Grab 'em by the P***sy kinda guy, where's the Me Too Movement when u need them??? Whoever controls the media controls the sheeple….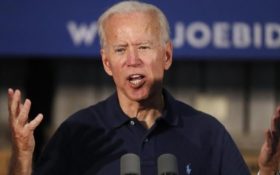 Presumptive 2020 Democratic nominee Joe Biden wants nothing more than to move back to Washington, D.C. — but my want to be careful what he wishes for.
Sponsored:
That's the same police jurisdiction that's investigating Biden over sexual assault allegations.
The Metropolitan Police Department of the District of Columbia has announced that it is officially investigating Biden –– who has been accused of sexually assaulting former staff assistant Tara Reade in 1993, when he was accused of pinning her against the wall and putting his fingers in her genitals.
"This is an active, ongoing investigation, and there are no further details to provide at this time," Metropolitan Police Department public affairs officer Christine Metzger told The Daily Caller.
Metzger told the outlet she was unclear on how authorities would proceed if evidence proves the allegations are true.
Sponsored:
Either way, the investigation will certainly impact his fledgling Democratic presidential campaign.
The official police statement has been delivered in a time when the corporate media has all but ignored the accusation, which was made public Mar. 25 by Reade on a podcast.
Critics, including those who supporters Sen. Bernie Sanders presidential bid, have suggested there was a Biden cover-up to protect him during the Democratic presidential primary, as well as heading towards his November 2020 match-up with President Donald Trump.
The silence from some of America's fiercest #MeToo advocates has been deafening — especially compared to Justice Brett Kavanaugh's ordeal when he was accused of sexual assault.
Hollywood liberal and activist Alyssa Milano, who led the attack against Kavanaugh on social media, kept silent on the Biden accusation.
Sponsored:
And Time's Up, an organization who's literal mission statement is "believe all women" flat out rejected Reade when she came forward with her accusation on Biden, citing his presidential run.
The Washington Free Beacon reported that between Mar. 24 and Apr. 15, Biden had conducted 10 interviews with "major news outlets" — and wasn't once asked about the sexual assault accusation.
"What is clear about this claim: it is untrue. This absolutely did not happen," according to his spokeswoman Kate Bedingfield.
So much for "believe all women."
The Horn editorial team