Zack and Diana Wangeman, two Oaxaca natives in New York, use heirloom corn from Mexico to make some of the most special tortillas in the country
BY Crystal Shi February 11, 2022
On a good day, the tiny tortilla factory that anchors Sobre Masa in Brooklyn churns out 5,000 tortillas, in shades of red, yellow, white, perhaps blue. The colors that day—and, in turn, the distinct flavors, aromas, and textures—depend on the availability of the heirloom corn they buy from small Mexican farms.
"We're fourth in line, basically," said chef Zack Wangeman, after the farmers save enough for their families, livestock, and next year's crop. He has to explain to clients, "Hey, you might not know what you're gonna get—but that's a good thing."
Zack and his wife, Diana, both Oaxaca natives, opened the all-in-one tortilleria, cafe, retail shop, and taqueria and bar last October; it's their second project after a now-closed restaurant by the same name. The tortilleria is the first in the city to use only imported heirloom Mexican corn, sourced through Mexico City-based purveyor Tamoa.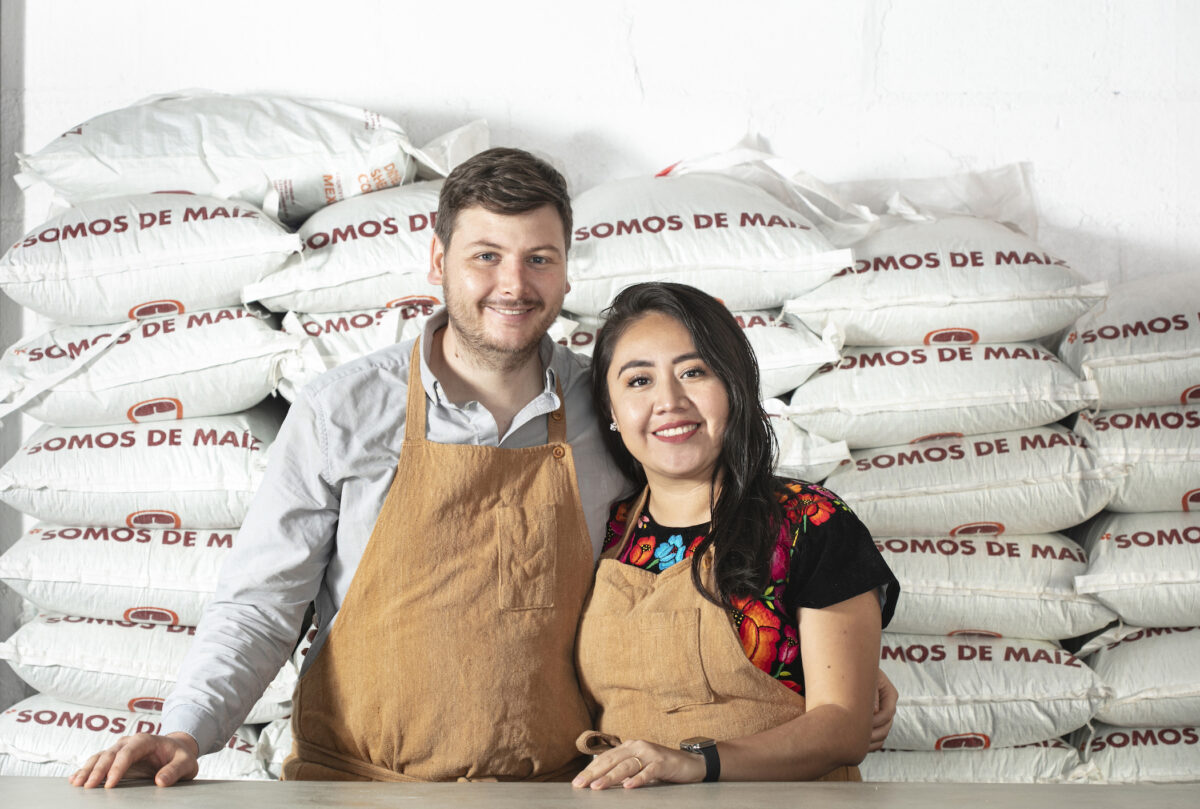 "We're a corn-driven establishment … We try to showcase the diversity of the corn as much as we can," Zack says. There are some 60 heirloom varietals in Mexico, including around 30 from Oaxaca alone, he explained, their seeds carefully preserved by small farmers for generations. "They all have a soul of their own."
Qualities vary dramatically from varietal to varietal, color to color, even farmer to farmer. Oaxacan white bolita offers a "toasted popcorn aroma," for instance, while yellow bolita is "a lot more mushroom-y, a lot sweeter." Blue bolita makes softer tortillas, while extra-starchy cacahuazintle makes ones softer still—so much so that they like to use them in place of flour tortillas.
The corn is nixtamalized—the ancient process of soaking it in an alkaline solution to break it down and make it more nutritious—and milled and kneaded into masa, the thick dough that gets pressed and cooked on a hot comal. The tortillas—sturdy yet tender, fragrant and flavorful enough to devour plain—are delivered to restaurants such as ABC Cocina, sold to customers at the front of the shop, or served in tacos in the dining room in the back.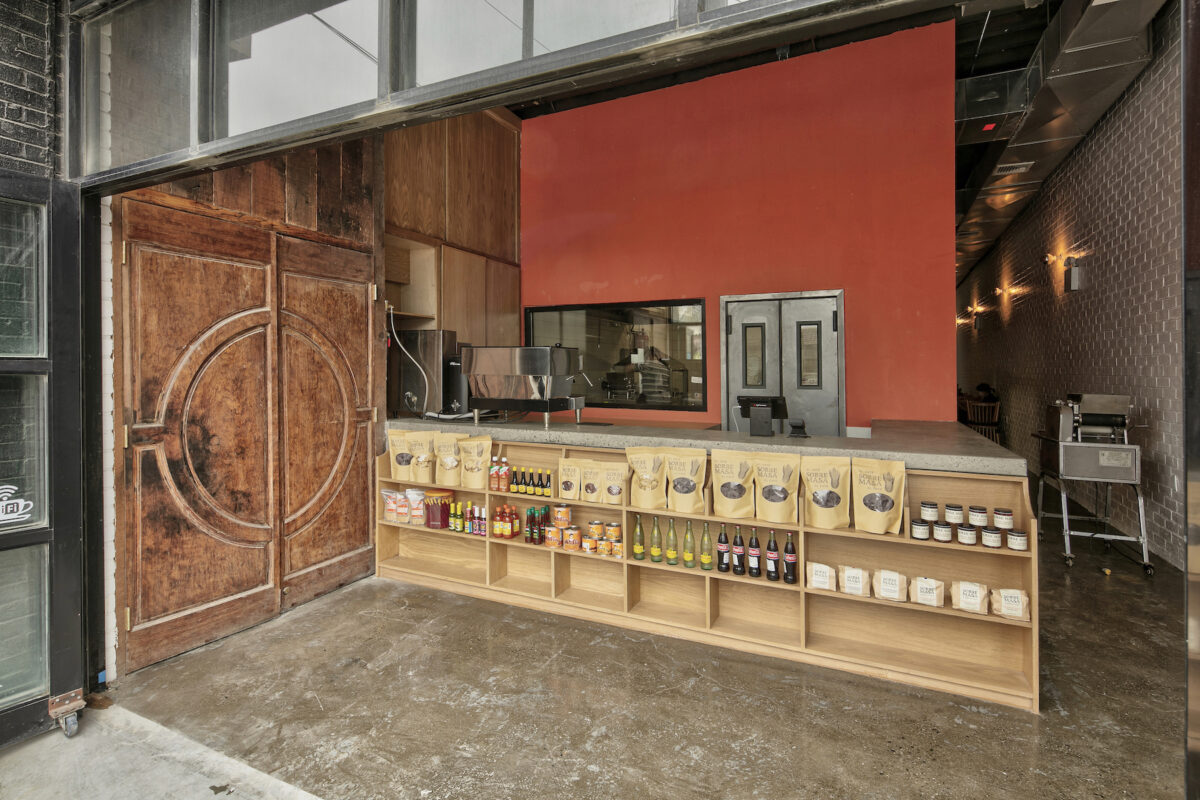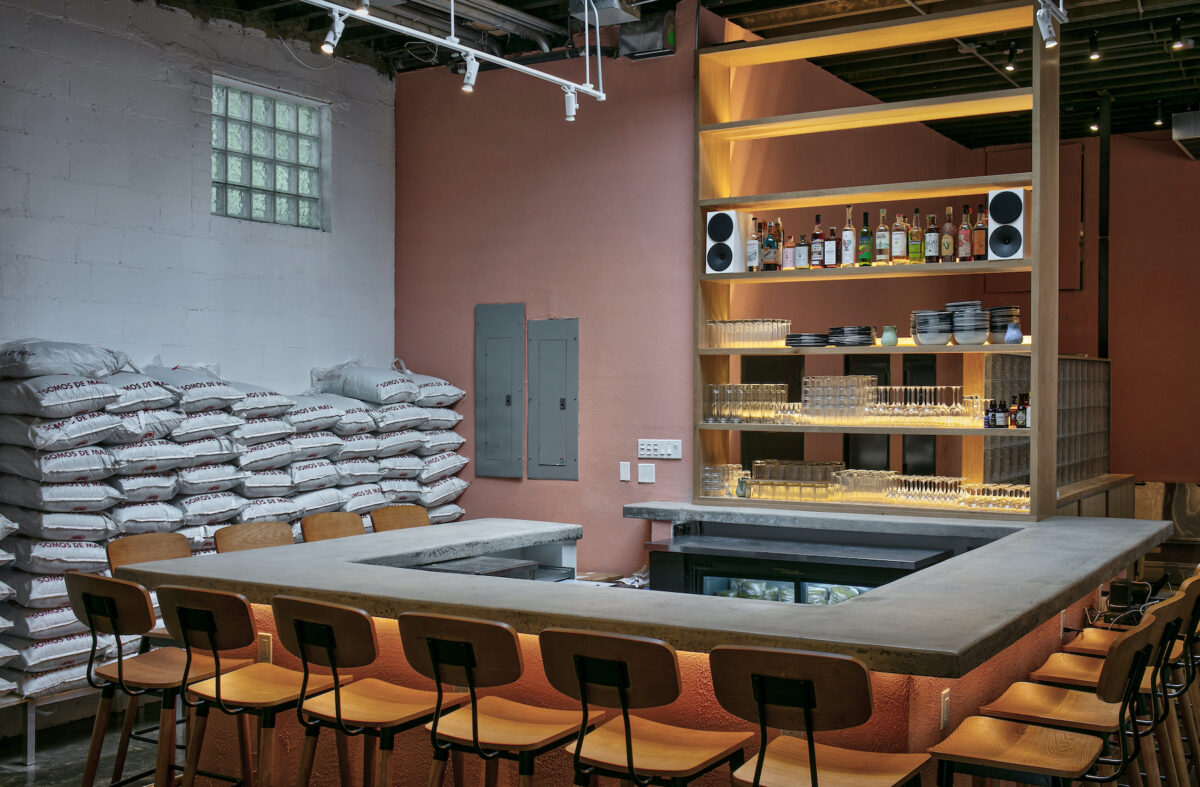 The seeds of Sobre Masa were sown while Zack was working as a full-time pastry chef in New York, after having spent time in kitchens including Per Se and Spain's El Celler de Can Roca. Missing the food from home, he learned to cook Oaxacan dishes, including fresh tortillas made from masa ground in his apartment, for monthly pop-ups in 2018.
His research led him deep into the history of corn, a bedrock of Mexican diet and culture for at least 8,000 years—now under threat by GMOs, industrialization, and myriad other factors, in turn, threatening the country's nutrition. When the pandemic hit, Zack returned to Oaxaca and put together a business plan.
Diana, meanwhile, grew up in a small farming village where most families grew their own corn. Her parents ran a traditional Zapotec restaurant, and the seasonal rituals of planting, harvesting, and selecting seeds for corn were "something that I remember doing since I was a kid," she said. A medical school graduate, she was taking a break from employment when Zack, a high school friend, came calling.
He was opening a tortilleria in New York, he told her, and proposed a deal.
"You hand-press tortillas, I'll pay for your flight." "It was a joke," Diana said, "but I was like, 'OK, yeah, I'll go.'"
Her December 2020 flight, as Zack puts it, "was probably our best investment at the restaurant." A visit eventually led to a permanent stay—and another kind of proposal. With the Oaxacan food Zack was making, "I felt like I was at home," Diana said.
"He also knows how to puff a tortilla, so I knew he was ready to get married," she added, laughing.
Now, they work together to champion the richness of their home country, and "empower Mexican producers as much as possible," Zack said. The cafe uses coffee beans from a friend in Oaxaca; the bar program explores the diversity of Mexican spirits; branded T-shirts are purchased from Mexico.
The taqueria menu is intentionally short, to highlight how Mexican cuisine is "just as specialized" as, say, Japanese, Zack said. "In Mexico, you have people who make carnitas and that's it, their entire life." At Sobre Masa, they make al pastor, bistec, and cauliflower, including in a few regional specialty tacos.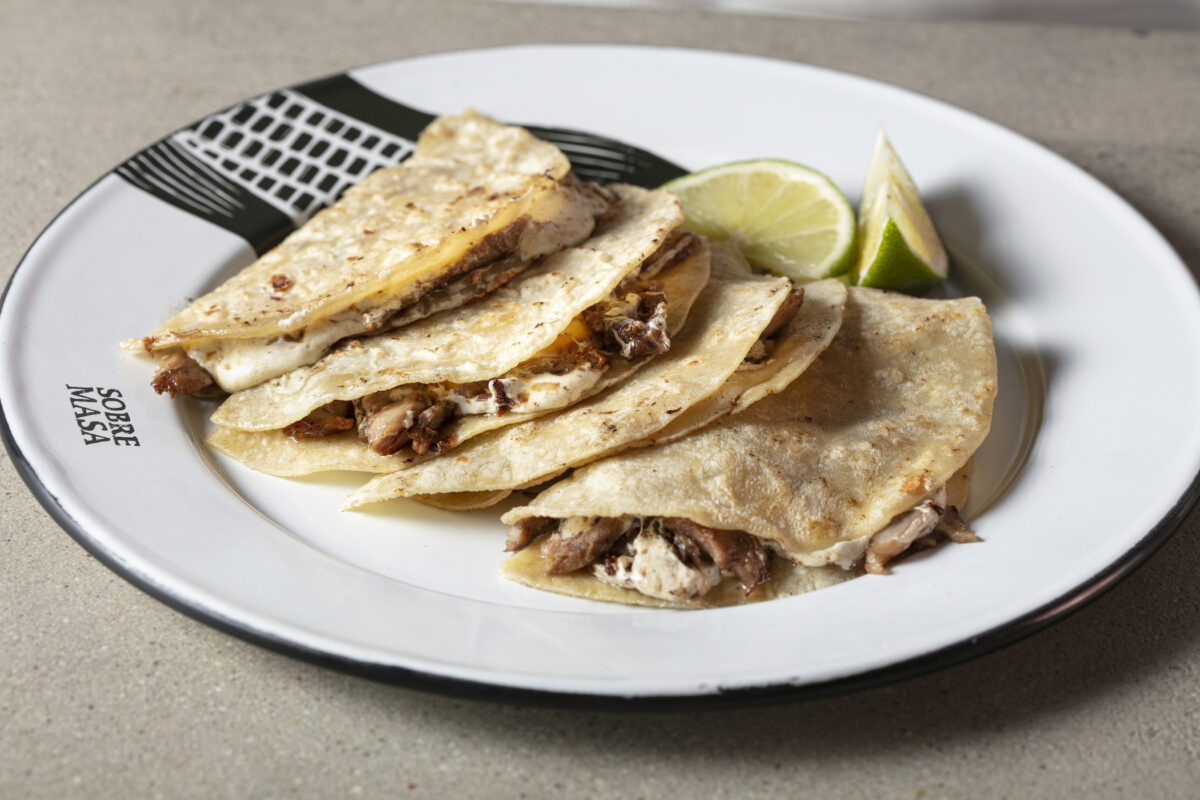 Then, of course, there's the corn. With their tortillas, Zack and Diana join a growing movement helping heirloom corn make a comeback: "There's a strong community defending this ingredient, promoting this culture that we're founded on," Zack said. "We want to be a part of this community."
They're happy to see more interest and awareness among customers, too. "People say, 'What tortillas do you have today?'" Zack said, smiling. "What an amazing question."
Meet the Chefs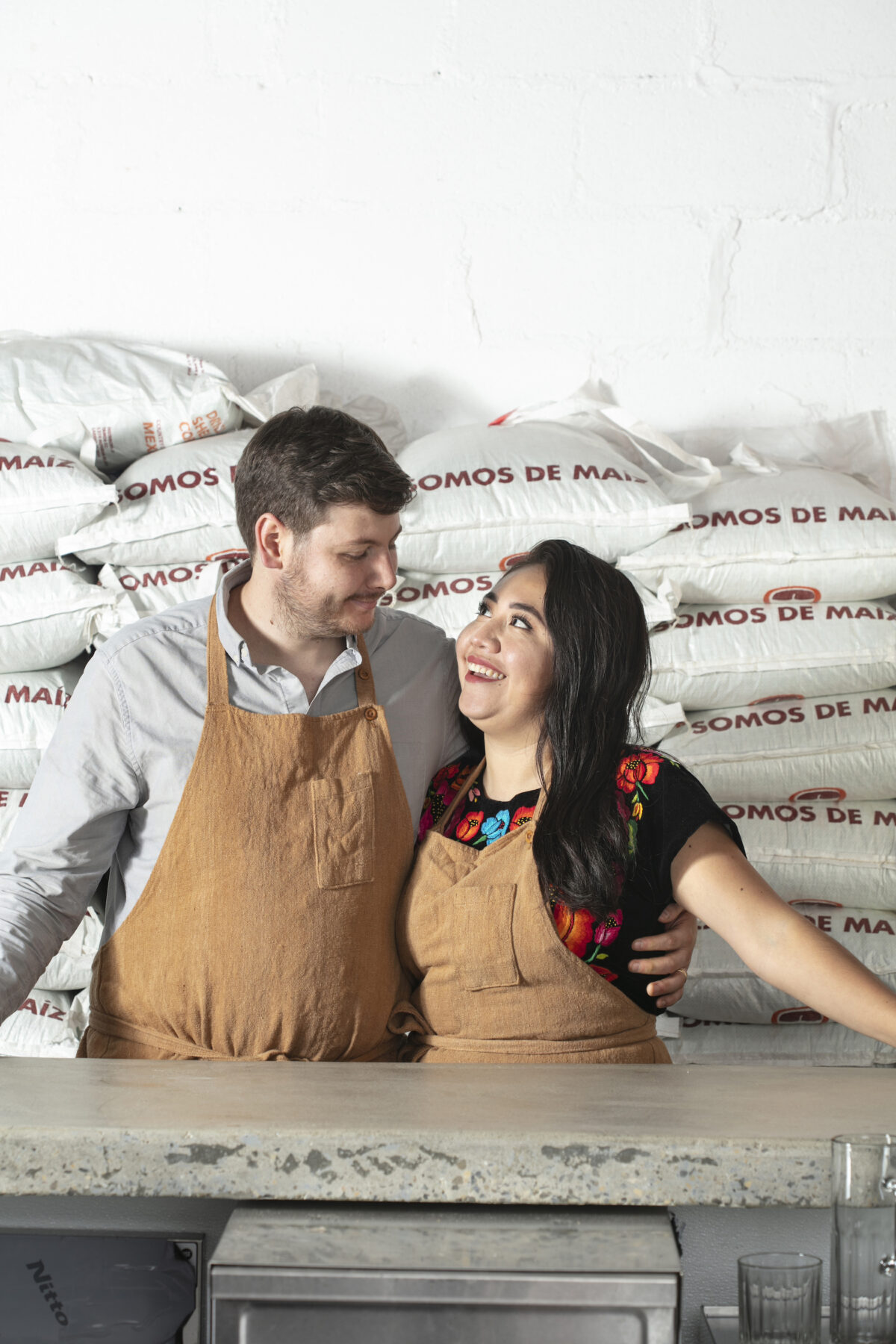 Zack Wangeman
Age: 29
Favorite Taco: Al pastor
Last Meal: Tortillas with queso fresco and salsa morita
Food He Misses Most: "The experience of the meal. There's a street food stand I always go to on my way home from the airport [in Oaxaca], and they do very large empanadas with different fillings, and memelitas, which are like slightly thicker tortillas with beans and cheese and asiento, a paste made from ground chicharrones."
Best Advice Ever Received: "Marry Diana." (From his mother)
Diana Wangeman
Age: 29
Favorite Taco: Bistec in tacos, al pastor in gringas
Last Meal: "I'm thinking of a whole table. … Hot chocolate with bread, and enchiladas rojas from my town."
Food She Misses Most: Tlayudas, and the flavor of the squash blossoms from home
Best Advice Ever Received: "Hard work will prevail, regardless of the circumstances."